Safety is a principle commitment and always at the forefront of everything we do.
We are committed to protecting the health and safety of our employees, as well as the environment we work in and the communities we serve.
Our goal is to consistently pursue the highest standards of Health, Safety and Environmental (HSE) performance by providing employees with the means necessary to perform their jobs in a safe and environmentally responsible manner. Our HSE program is based on six elements:
Leadership Accountability
Employee Development & Readiness
Management of High Risk Activities
General Workplace Safety
Hazardous Substances & Environments
Incident Management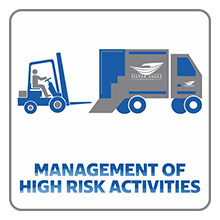 Silver Eagle Houston leaders put these elements into action through fostering positive attitudes towards HSE compliance, coaching moments and ensuring that all operations are performed with the highest regard for the health and safety of all involved.
To learn more about HSE at Silver Eagle Houston, please download our HSE Policy.